The Smart City of Anthos Air Power Normandy
High efficiency, no emissions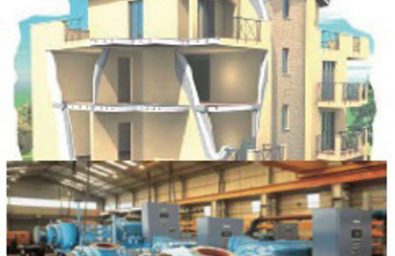 Reduce the environmental emissions, use local resources available in the territory, offer flexible energy services , programmable on demand and zero emissions vehicles is our objective for a Smart City.
Thanks to the implementation and the integration of high efficiency renewable technologies, we eliminate the concept of landfill and incineration valorizing waste , solid and liquid biomass in clean energy, through ecological systems of pyrogasificazion and biogas.
The types of waste treated are:
Solid urban waste
Polluting special waste, expired medicinal, hospital waste
Industrial and communal sludges and water waste
Wood, plastics, tires
Waste from production discards of agri-food and other industries, animal manures.
systems
integrated energy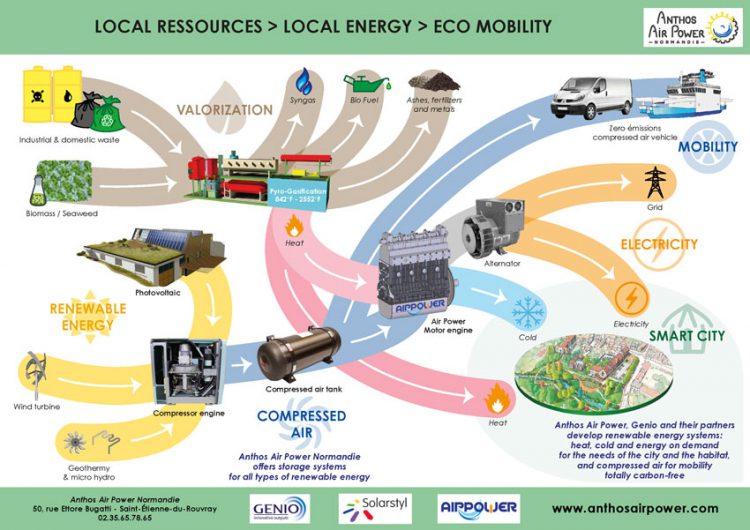 The electrical energy locally produced, from disposal systems or from other plants using renewal energy, thanks to a storage system on compressed air, can be used " on Demand" to supply important urban services such as conditioning systems, land and maritime transport , without any carbon emissions, or it can be converted into green electric energy , through an eco-friendly air compressed engine . It can also be reconverted into electricity without emissions into the atmosphere.
Our integrated system is based on eco-friendly plants; they are compact, modular and easy to install; indeed with minimal civil works, as we have adopted also transportable plant solutions in containers.
Polluted lands, can be revalorized through our decontaminating system, and then to be used for the installation of the plant itself.
The flexibility and the optimal integration between the various systems will be the key to interpret the future of the different green technologies and their applications such as air compressed vehicles, thermal systems and the energy system, to have smart grids ( micro grids) for a real Ecological Smart City with a general vision and a complete and virtuous management of the global energy system.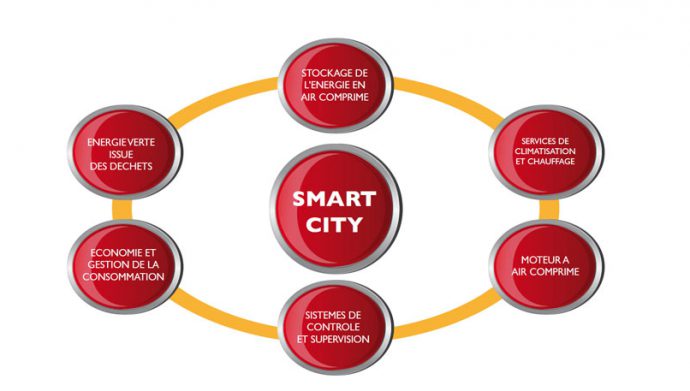 Pyro-Gasificator
Our objective is to produce thermal and electrical energy with eco-sustainable technologies , through the disposal of urban, industrial, agricultural and animal waste, allowing the elimination of landfills.
Our systems are modular, compact, easy to install and engineered according to the production site . They meet precisely the waste disposal needs of small, medium and large waste collection centers, whether private or public.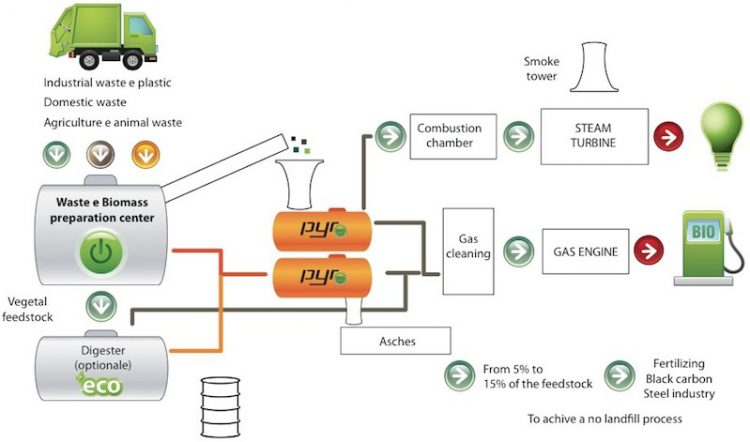 Produce heat and electricity using eco-sustainable technologies and eliminate urban and industrial waste
PYROGAZEIFICATION TECHNOLOGY
Through a system, PATENTED, which uses a process that transfers heat directly in the heart of the raw materials (biomass or waste), in an anaerobic environment, through steel balls that are heated at a temperature between 450° and 1050°. Within an unique process of a few minutes we can transform 93 to 95% of the organic materials into synthesis gas.
The steel balls are heated inside micro- ovens and 50% of the energy used during the heating process is recuperated.
PYRO-GASIFICATION PRINCIPLE SCHEME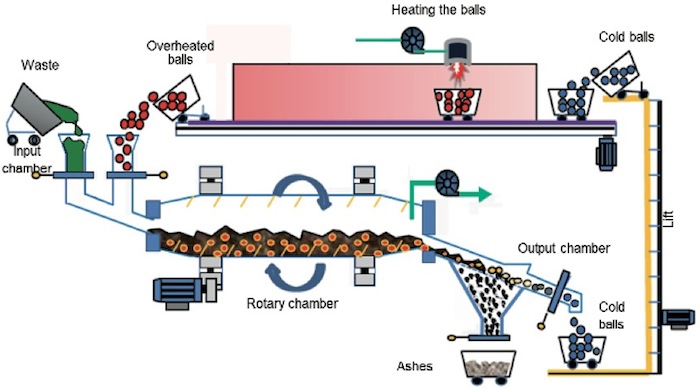 Pyro-Gasificator
The pyro-gasification technology used by SET ENERGY SERVICES allows transforming up to 95% of the carbon through a single process cycle, thus allowing a high production of SYNTHETIC GAS.
The consumption of energy to produce SYNTHETIC GAS is between 10% to 20% of the production of the all process. This system can also produce oil (diesel type) from products such as tires or other polluting products with zero emissions
Pyrolysis
and
Environment

The tests done with highly polluted products revealed very positive results for the environment. In particular the CO2 emissions remained below
300 Kg/T, which means 70% lesser compared to modern incineration technologies.
In addition, no dioxins are produced due to the absence of oxygen during the process, while all the particles that can be pollutants remain in the residues that form at the end of the process.
BIODIGESTION AND BIOGAS
Biodigestion: technology for the agro-industrial waste.
The use of another type of reactor operating without oxygen, in the treatment of agro industry water waste purification, permits to eliminate their pollution and to produce biogas.
The principle is based on a patented technology UASB that implements a bed of granular sludge in an ascending flow.
This type of compact reactor, powers up quickly, and accepts important soluble organic charges.
Its small size and the energy savings it generates, makes this technology particularly suitable for the treatment of liquid waste produced by the food industry.
The residues of bio-digestion process become the raw material for the pyrolysis process. This process allows industries (as cheese factories) to become autonomous in its own energy supply.
High efficiency compressed air engine
Air power has developed the first high-efficiency compressed air motor thanks to an international patent that increases the yields known to date by four times. The use of compressed air as a means of propulsion, allows great flexibility and various applications in different fields, all highly ecological.
Via a conversion KIT, the air propulsion can be applied to existing engines and plants.
COMPRESSED AIR ENGINE APPLICATIONS
ENERGY STORAGE
Taking advantage of the fluid dynamic air properties and the efficiency of the compressed air engine, it is possible to store electrical energy in the form of compressed air and use it again when it is requested to power utilities, cold chain or to produce energy by turning on an alternator. The production of electricity can be predictable in its feeding and dispatchable, contributing to an higher quality and safety of the electrical system. These systems lend themselves to be used for both performances "in power" or "in energy".
AIR POWER SUPER COOL PANEL
Photovoltaic panels connected to the exhaust system of the engine Air Power, in the static version, receive cold air which increases their yield by +/- 20%. This technology permits through a conversion kit to retrofit existing solar parks.
With this Air Power technology, we are able to optimize both plants and energy consumption of utilities.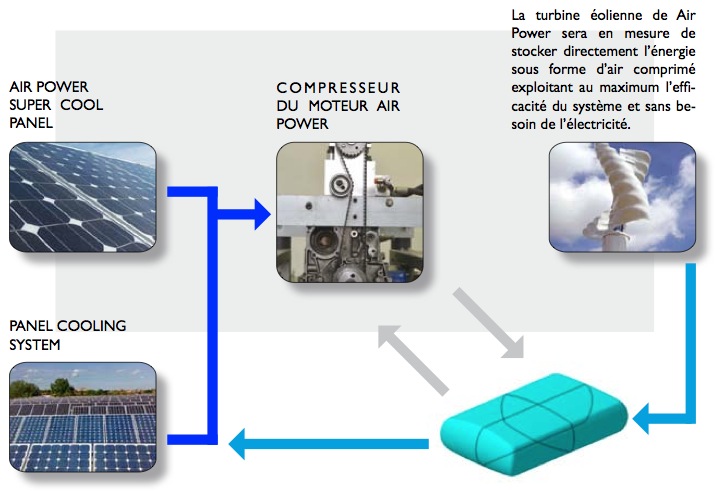 AIR POWER develops transformation kits for public urban buses: it will be possible, at a very competitive cost, to completely modernize the existing fleet of vehicles in a city, which will have a positive effect on the economic management of municipalities and their cash flow on the one hand thanks to the electric stations producing energy through renewable sources and on the other hand thanks to the decrease of the current operating costs. This has a positive effect on health and the environment since the means of locomotion are zero emission or better yet purify the atmospheric air we breathe: a bus can purify the air for 500 people.
AIR POWER is also developing a conversion kit for vehicles carrying goods, trucks, commercial vehicles, taxis and boats.
It will also be possible to develop conversion kits for freight vehicles. It can be applied to the tank for compressed air as well as to the turbo generator to supply auxiliary services; We can transform them into negative emission vehicles: We have calculated that 4000 commercial vehicles can purify the air that a million people breathe.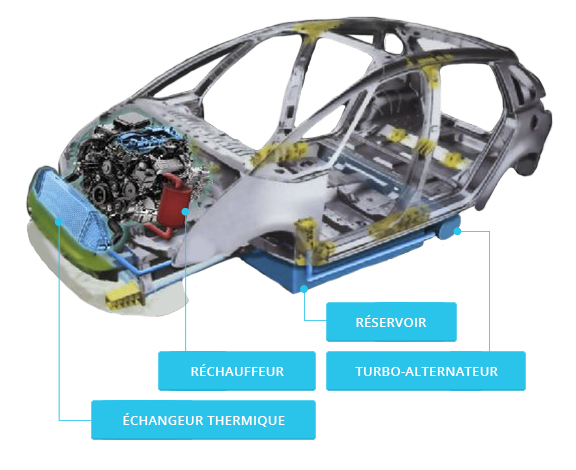 Full tank pressure [ATM] = 400.00
Full tank temperature [C] = 25.00

Tank volume [L] = 1000.00

Outside air temperature [C] = 25.00

Wheel circumferences [M] = 1.76

Running valve (expansion A) [MM] = 5.00

Maximum running valve[MM] = 80.00

Diameter of cylinder [MM] = 84.00

Number of cylinders = 0:00

Axle Ratio = 4:11

Gear Ratio = 3.4200 1.9000 1.2800 0.9700 0.8200
APPLICATIONS IN RESIDENTIAL SERVICES
AIR POWER has selected a partner to develop a new concept of residential civil Engineering using compressed air for the production of A-class energy , anti-seismic ecological housing, totally powered by renewable sources : it will be possible to place an Air Power engine in its static version, to obtain electricity, heating, cooling and indoor air purification.
For these homes we have also selected a photovoltaic panel system that can be installed as a roof or integration to the facade that increases the efficiency of the panels. This thanks to greater ventilation, area and sunshine during the year increasing the thermal flow of the frame of the house.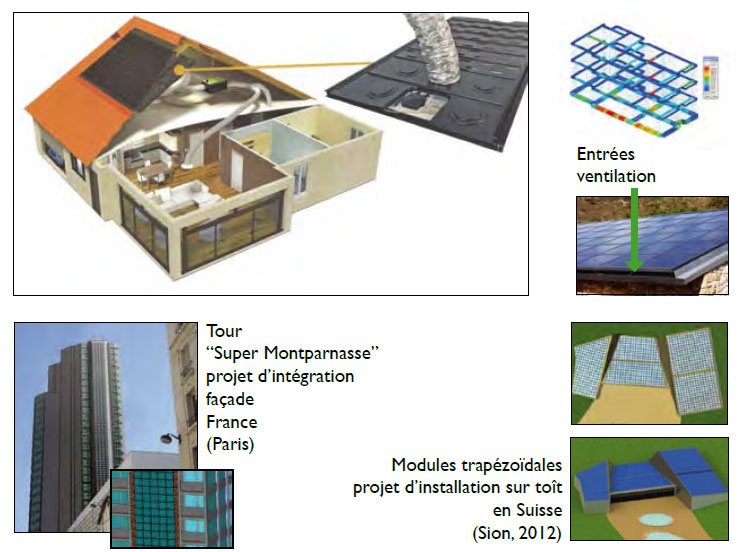 WITH THE INTEGRATION TECHNOLOGIES DEVELOPED BY SET ENERGY SERVICES WE ARE MAKING THE INTELLIGENT HOME WITHIN A SMART CITY.
CONTROL SYSTEM
A general equipment control system will be installed to supervise all activities during start-up, operation and handling.
All technical data from the different systems will be received and processed by our system GEVY (global energy vision integrator). Our integration of the various "subsystems" allows us to monitor 24 hours a day all services and applications, optimizing the management, the services, the maintenance and allocating the potential according to needs with an information service for the users in real time.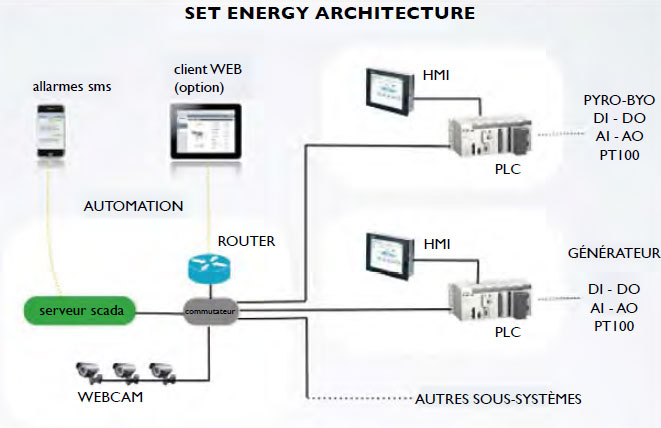 CONNECTING TO THE NETWORK
POWER ACCUMULATION
Producing programmable renewal energy, using flexible modules and storage systems that allows to have a Virtual Power Plant , which is a cluster of facilities that are globally managed by a single control center GEVY.
By integrating generation, services and storage of the energy for an utilization "on demand ", we offer an intelligent energy network as a basis for the development of a Smart City.
This feature makes that the production of electrical energy can be predictable in its grid input, therefore dispatchable and contributing to the quality and safety of the electrical system.
A system to be effective must be integrated and safe.
SMART GRID ASPECTS
Grid characteristics of the SET systems
Belonging to RES Distributed Generation
Connection interface to the network with defined functions
Allocation of network services
Accumulation possibilities
Through the connection, the interaction with the network will be an active type, what creates the bases for the implementation of the Smart Grid philosophy.
INTEGRATION IN THE "SMART GRID" CONCEPT
"Smart Grid" is an intelligent network that can receive bidirectional power flows, that allows interaction between the producer and consumer, and determine in advance the demands of consumption, therefore adapts with flexibility the production and consumption of electrical energy.
A network that communicates exchanging information about the energy flows, managing efficiently peak demands, avoiding power cuts and reducing the loads where it is needed.
SET ENERGY SERVICES KNOW HOW
The main components which allowed us to develop these concepts:
The presence of Expert Teams whom are highly experienced both in the field of Renewable Energy New Technologies (Solar / PV [cool panel], Wind, Geothermal and High-speed Self- Generated Biomass), as well as in the Automotive Industry.
A strong expertise in Engineering and Manufacturing of last generation solar products.
A revolutionary AIRPOWER Engine with negative emissions, whose Patented principles have resulted to be essential in the problem solving of Energy storage.
An AIRPOWER highly innovative concept of car manufacturing; profitable for the low and medium volume , capable of producing a wide range of vehicles with the same platform.
The ability to design, develop and operate the integration of all the components, above mentioned.
The technologies used in our system allow:
SIMPLICITY: in its installation, use and maintenance.
EFFICIENCY: the performance of every single process has been the basis of our development, and this means that whole system has a return superior to at least 80%.
INTEGRATION: a supervision and control system that handles the integration of various processes, with an "on-line monitoring and warnings" by assigning the different settings to the system.
FLEXIBILITY: Its compact size allows installations even in containers, and then can be transferred where it is needed
COST-EFFECTIVENESS: the system provides a solution to various problems such as the problem of WASTE DISPOSAL, it also produces Renewable Energy with high returns.